The days are getting shorter and your thermostat is likely getting higher to counter the cold nights. It's that time of year when we're all thinking about energy management and how to balance comfort with rising prices. Some people might well save money by switching to renewable energy sources, but do you know you can actually make money by investing in it? You might be powerless to stop your bills going up, but by investing in renewable energy you could easily earn enough to perhaps even pay your bills...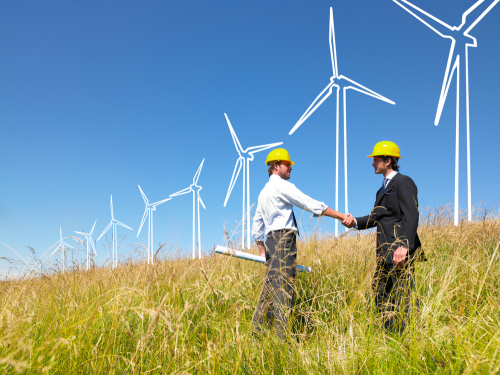 By 2020, the Government is aiming to provide 15% of the UK's energy usage from renewable sources only. Not only is this good news for the environment, it's providing some excellent investment opportunities, from solar panels to wind farms. Usually, these larger projects are funded by bonds or Government initiatives which then provide an income for big investors, so how you can you get involved? The usual route would be to stick some solar panels on your roof and then opt in to a 'feed-in tariff' scheme, feeding excess energy back into the National Grid and earning enough - in some cases - to pay your bills. However, there are other ways...
You can invest in the sunshine
There are numerous companies out there who sell shares to let people get involved in the progression of solar power. Some of these companies have Government subsidies and appear to be very safe investments. Foresight Solar for example, only purchase solar farms when they're completed or near completion, and get guaranteed subsidy funds from the Government to keep them up and running for 20 years.
You could invest in Wind too
Greencoat UK Wind are just one of many companies who will let you invest in the wind industry. However, the success of the company (and therefore your investment) will very much depend on the Government's long term plans for wind energy. The trust already has three windfarms in England, two in Scotland and Northern Ireland, and another in Wales, so it looks like a good time to invest.
What are the Government doing to advance renewable energy?
There are a number of things currently in place for both businesses and households to help them use and create renewable energy. Whether you're the owner of a nationwide business or a simple homeowner, there are schemes set up which are designed to help you make the most of your energy, and help you consume clean, green energy. The overall goal of these schemes is to make Britain more environmentally friendly, but they can also help you to keep your energy costs as low as possible. Some of the schemes are:
The Renewables Obligation – Provides incentives for large-scale renewable electricity generation by making UK suppliers source a proportion of their electricity from eligible renewable sources.

Feed-in Tariffs scheme – Pays energy users who invest in small-scale, low-carbon electricity generation systems for the electricity they generate and use, and for unused electricity they export back to the grid.

Renewable Heat Incentive – Pays commercial, industrial, public, not-for-profit and community generators of renewable heat for a 20-year period.

Renewable Heat Premium Payment– Gives one-off payments to householders, communities and social housing landlords to help them buy renewable heating technologies like solar thermal panels, heat pumps and biomass boilers.

Renewable Transport Fuel Obligation – Makes companies that supply more than 450,000 litres of fuel per year source a percentage from renewable sources.
--
Eco Stores Direct are here to bring you the very latest in energy news, views and opinions from across the UK. They are also suppliers of energy efficient electric heating solutions and are constantly assessing the market for the best products and the latest ground-breaking technology which they think will make a real difference to their customer's homes. Eco Stores Direct are devoted to helping you reduce your carbon footprint and bring down your energy bills and they work hard to raise awareness of energy efficient products that can make all the difference. For more information on their range of energy efficient electric radiators or designer electric panel heaters, call one of their friendly team today on 0330 300 4444 for a free assessment.