You might not think it, but a report has surfaced that puts UK farms near the top of a list of 'untapped' energy sources in the move to a low carbon, renewable Britain. We're not talking about wind farms or solar farms either, just your regular crop-producing, animal rearing farms. With such a strong emphasis on clean and affordable energy to power our appliances at home, could this be one of the breakthroughs the Government is after?
The report came from the Farm Power Coalition, and their data is quite striking; some have even gone as far as to call it a 'landmark report'. The coalition contains a number of farming bodies, business and energy experts who are trying to rally support for a cleaner, greener country. The report found that around 10 gigawatts worth of energy lay untapped across UK farmland - to give you an idea of scale that's three times the amount expected to be generated from the UK's latest nuclear power plant plan (Hinkely Point C).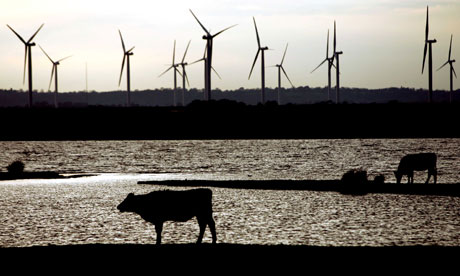 The real magic of using farmland to produce renewable energy is the way they compliment eachother. Deploying renewable energy installations to generate power can complement food production, increase jobs and economic growth for farmers and surrounding communities, and help biodiversity, land and water management and other ecosystem services.
Iain Watt leads projects at 'Forum for the Future', and he said of the idea,
"Either way, 10GW is a huge figure, and would go a long way to helping the UK meet its renewable energy targets. The fact that this potential can be met in a manner that complements food production – livestock and poultry production can happily co-exist with ground-based solar and / or farm-scale wind, and energy production can also provide space for the pollinators upon which much food production depends – provides all the justification politicians should need to embrace the farm power revolution"
Renewable UK's Wind Development manager also gave her approval, saying that rural developments could play a critical role in getting Britiain on track to hit its European renewable targets by 2020. For the UK to hit its proposed target, 15% of all of our energy needs to come from renewable sources, and developments like this are going to be key to making that happen.
For us at home, it's an interesting notion; that entire cities could be powered by developments on rural farmland. Until recently, things like wind farms and solar panels were seen by some as being a 'blight on the landscape', but what if these renewable energy generators actually helped farms to make money, even grow? It's a way for solar panels and windfarms to co-exist with our countryside, helping farms to flourish while also powering thousands of homes with clean, green renewable energy.
What are your thoughts on the report, and how renewable technology and wind farms could work hand in hand to power your home?
--
Eco Stores Direct are here to bring you the very latest in energy news, views and opinions from across the UK. They are also suppliers of energy efficient electric heating solutions and are constantly assessing the market for the best products and the latest ground-breaking technology which they think will make a real difference to their customer's homes. Eco Stores Direct are devoted to helping you reduce your carbon footprint and bring down your energy bills and they work hard to raise awareness of energy efficient products that can make all the difference. For more information on their range of energy efficient electric radiators or designer electric panel heaters, call one of their friendly team today on 0330 300 4444 for a free assessment.